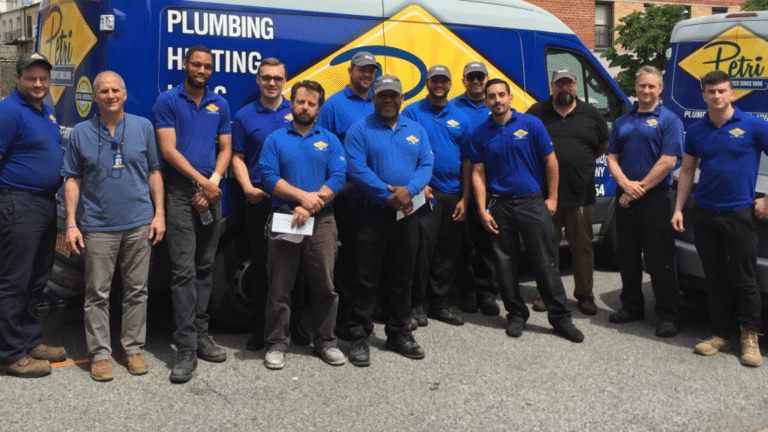 Petri Plumbing & Heating's innovative solutions to problems presented by COVID-19 has earned it a place in Plumbing & Mechanical magazine!
In an interview from his kitchen table, Michael Petri shared the ways that technology has allowed his crews to continue working even during the COVID-19 crisis. He talks about the ways that this crisis is different from anything he's ever experienced before, including 9/11 and Hurricane Sandy.
Serving Our Community
At Petri, we have worked hard to keep our services available during the current crisis. We've used technology to keep our phone systems working, our dispatch going, and to put our invoices in the cloud. All of this keeps both you and our technicians safer because there is less contact and fewer instances where people have to interact in close proximity to one another.
We are also working to reassure both our customers and our technicians by putting a higher level of safety measures in place. Our technicians will stay at least 6 feet away from customers at all times, will wear masks and other protective gear, and will sanitize and clean up after themselves. We only ask that customers allow our staff to keep a safe distance while they are working.
Michael loves that he can sit at his computer and watch everything that is happening with his business. He can see calls coming in, appointments being made, technicians being dispatched, and then he can follow their progress until the job is done. This allows him to ensure the quality that Petri has always been known for without endangering himself or anyone on staff here.
Proud to be Here
Getting high-quality home services can be a challenge anytime but it's especially difficult right now. At Petri, we are proud to still be serving Brooklyn and all of our clients in New York City. If you need help with your plumbing or HVAC systems, we'll get to you soon and solve your problem fast, just like we always do.
If you have any concerns about health or safety, please let us know when you call. We'll work with you to make sure you get to live in a comfortable, safe environment while maintaining proper social distancing and taking other precautions so that we all stay safe and healthy.
At Petri, we are proud to be featured in this national publication. We are even more proud of our team that has been working every day to keep your home running well, no matter what!