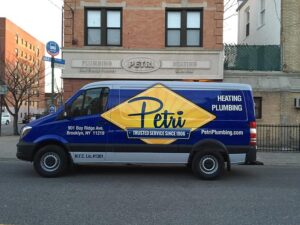 We are proud to announce that Petri Plumbing & Heating's Spring Street Project has been named the 2015 top residential project by PCH News (Plumbing & Hydronic Contractor News). This project involves the renovation of 3,000 square feet of loft space located in Manhattan, New York.
As the plumbing subcontractor on this project, we were assigned to install two brand new, high-end custom bathrooms as well as a high-end, fully custom kitchen. Since it is a created space, we have had the opportunity to flex our team's creative muscles to design and install amazing spaces.
In this loft, all of the fixtures are imported Europe. High-end features include a step-up shower as well as a whirlpool bath and sink tops that are free-floating. A true luxury project, this is one that we have truly enjoyed being a part of.
Like any metropolitan construction project, the Spring Street Project has not come without its challenges. Working in Manhattan means struggling to find places to park, figuring out how to get your truck to and from the site and making arrangements to enter and exit the building using freight elevators. The old plumbing, unique infrastructure and detailed regulations and codes also make working in New York a challenge.
Despite these challenges, though, we managed to complete the roughing and have the project inspected in just 15 days rather than the allotted 20 days.
About Petri Plumbing & Heating
At Petri Plumbing & Heating, we've been around since 1906. Through two company names and titles, we have always remained in the same location. Today, we are focused on providing residential work in the renovation area, but we also offer commercial and repair services.
2016 will mark our 110th year as a business. In preparation for this monumental occasion, we have rebranded ourselves and are working on promoting our new image throughout 2015. To date, we have launched a new website, redesigned our logo an applied new wraps to our work trucks.
Petri Plumbing's Dedication to Customer Service
"How can I make you smile today?"
When you call Petri Plumbing & Heating, Inc., that's the first thing you will hear when our office manager Jeanne Petri answers the phone. Here at Petri Plumbing, customer service is so much more than an empty promise in the mission statement or emblazoned on a work truck. For us, customer service is the foundation of everything we do.
From the way we answer the phone to our follow ups on each and every call, we strive to provide the "wow" factor for every caller. And our commitment to going the extra mile doesn't stop there. Once we are in a customer's home, we hand out business cards, wear booties and put down runners to keep the home as tidy as it was completed. We also perform follow-up calls to ensure that our customers are happy after the job has been completed.
Petri Plumbing Loves Giving Back
At Petri Plumbing, we are also committed to giving back. We recently launched a promotion that allows us to support childhood cancer research. When we spend a certain amount of time on a job, we send the customer a special box of chocolate chip cookies. A portion of our cost of sending the cookies is donated to childhood cancer research.
As a company, we are committed to providing excellent customer service and getting each and every job done right. To learn more or to schedule an appointment, please feel free to give us a call at 718-748-1254.