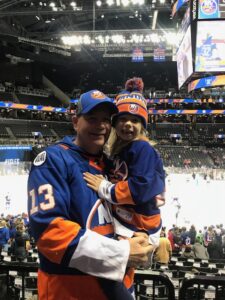 Our recent New York Islanders ticket giveaway was a great success! Winner Don Chiano took his young daughter to her very first hockey game and had an absolute blast watching the Islanders beat the Florida Panthers in a close 2-1 game.
These big-time fans were so happy to win the tickets, as you can see in these photos from the game. They made sure to show spirit by getting all decked out in the team's merch, with jerseys and beanies and a foam finger to help cheer them on to victory.
We offer these ticket giveaways from time to time, so you have a chance to win them and see the Islanders play! All you have to do to be entered is follow Petri Plumbing & Heating on Facebook and comment on our giveaway posts. Good luck, and go Islanders!!!