The holidays are almost here, and it's time to get your home ready for visits from friends and family. That means cleaning and straightening up, but it might also mean getting your plumbing inspected and taking steps to ensure everyone has a pleasant experience.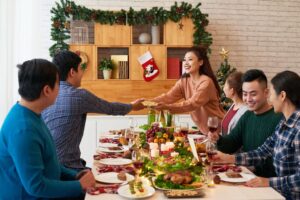 The holidays can put a strain on your Brooklyn home's plumbing, as people come to visit, sometimes for days at a time. Not only are your pipes at greater risk of freezing due to the cold weather, but food and other unwanted materials can make their way into drain pipes, causing clogs and backups.
Holiday-Proof Your Plumbing
The plumbing experts at Petri have some tips to help you and your plumbing survive the holiday season.
1. Cover the drains: Nobody likes standing in a pool of water while they're taking a shower, but if hair and foreign objects end up in the drain, that's exactly what can happen. Drain covers are cheap, and can avoid messy clogs and unhappy houseguests.
2. Can the grease: Pouring used grease and oil down the sink may seem like a good idea, but fat can build up along the sides of pipes and restrict water flow. Consider pouring grease into a metal container near the sink or stove, and taking it out with the rest of your holiday trash.
3. Watch what you grind: Garbage disposals are tough, but they can't handle everything. Avoid difficult-to-grind items like coffee grinds, eggshells, and banana peels, and be sure not to overload it.
4. Go tankless: On-demand water heaters can provide nearly unlimited hot water for you and your guests. These devices are more efficient than traditional water heaters, and can even reduce energy bills.
Let Us Help
If something goes wrong, don't let it ruin your celebration. Contact the holiday plumbing heroes at Petri Plumbing & Heating to schedule a plumbing inspection, fix a clogged drain and more. Give us a call today at (718) 748-1254.