The Petri family has been serving Brooklyn since 1906. During that time, we've seen our share of difficulty. From two World Wars and the Great Depression to 9/11, Hurricane Sandy and now COVID-19, we've seen Brooklyn stand strong and stand together. As your Brooklyn plumber, Petri Plumbing & Heating is proud to be part of this amazing community.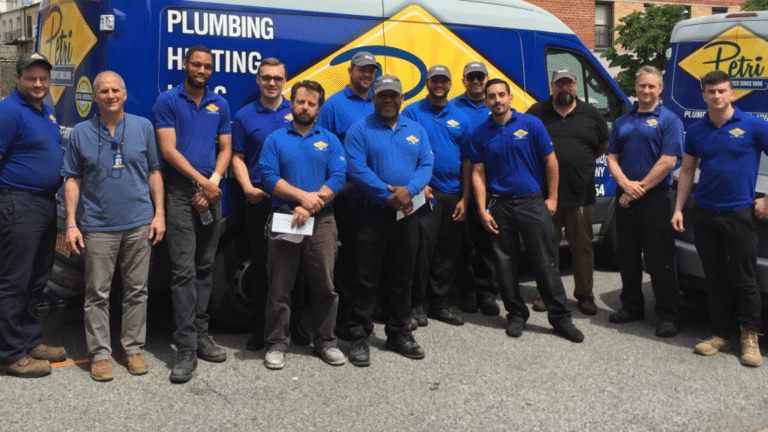 Over the years, Brooklyn has trusted us with their homes, supported us with their business. That's why it's so important to us to do the right thing and give back to the community in times of need and plenty. Here are a few of the ways we've been a good community partner right here at home.
COVID-19 Response
The coronavirus pandemic took us all by surprise. In a very short time, things went from business as usual to emergency lockdown in New York City. Many people, especially those who are ill or elderly, were left with no good way to get needed food and supplies. In mid-March, we offered to go shopping for our neighbors who needed it. We bought supplies and delivered, right to their doors.
As plumbers, we're an essential service during the pandemic. Our trucks have kept rolling, and our technicians have kept serving homes, keeping our neighbors healthy and comfortable in their homes. We've implemented protocols to keep our technicians and our customers safe, too. We're doing daily temperature checks, sanitizing surfaces and equipment, and wearing personal protective equipment. We're committed to seeing Brooklyn through this crisis.
Everyday Giving
But our community support isn't limited to times of crisis. We give back to worthy causes every day. With our Charity of the Month program, our team selects a charitable cause, and a portion of each invoice is donated to that charity. Previous recipients have included the Cancer Research Institute and the National Breast Cancer Foundation.
There's more to being in business than providing a service. You've got to be an active partner in your neighborhood, helping out and giving back to make the community stronger. That's a responsibility we take seriously. If you would like to learn more about Petri Plumbing & Heating, just call us at (718) 748-1254 or contact Petri Plumbing online.