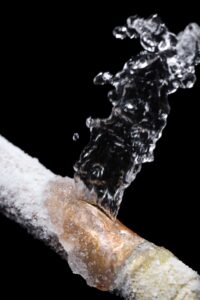 If the 2016 Brooklyn Blizzard did a number on you and your home, your plumbing system could still be partially frozen. If your water is flowing slower than normal or not at all, you could be at risk of frozen pipes bursting.
Even though warmer spring weather is right around the corner, it's important to understand the dangers of Brooklyn plumbing emergencies. Here are some top tips on preventing burst pipes from happening in your home:
Thaw Your Frozen Pipes
If you find the water coming out of your faucet to be a slow trickle, you'll need to identify the frozen section of pipe and thaw it out. Frozen pipes will either be frosted, covered in ice, or bulging, and a licensed plumber can help you track down the faulty section. If the pipe is still in good condition, a plumber can thaw the pipe with an infrared heating lamp.
Drip Your Faucets – In order to keep your pipes from bursting, you should let your faucets trickle so that water stays flowing and doesn't freeze. On the coldest nights, it might not be a bad idea to keep this proven method going throughout March.
Insulate Your Pipes – If you have pipes in cold spaces, a professional plumber can help identify whether or not your plumbing needs insulation. This is a cost-effective and long lasting solution that will help your pipes better handle the ups and downs of Brooklyn winters.
Replace Your Frozen Pipes
Even if you thaw out and insulate your plumbing, your pipes are still at risk of bursting – especially if they're more than 50 years old. Brooklyn repiping is a smart investment that adds decades of life to a home plumbing system, improves water flow, and helps prevent unwanted burst pipe repair.
Having your plumbing inspected now is a great way to prevent any plumbing headaches come spring. Not only will your home be better protected against burst pipes, your water flow and quality will be enriched, helping you save money on your monthly utility bills. To find out more about frozen pipe prevention in Brooklyn, call Petri Plumbing and Heating at 718-748-1254.