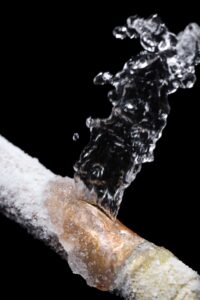 Cold weather has already been to Brooklyn this winter, and the chances are it will be back before spring begins. Freezes and Arctic blasts bring the risk of frozen pipes. If a pipe freezes and bursts in your home, you need to take immediate steps to minimize any damage.
Petri Plumbing offer some tips for our Brooklyn neighbors to help them through a tough situation.
Finding the Shut-Off Valve
The first step — turn off the water supply and then call a professional plumber. Moments count when trying to limit water damage to your home. Make sure you know the location of the shut-off valve in your home before an emergency. If you don't, consider taking advantage of our free emergency valve tagging service, valued at $295, to identify every valve in your home.
After shutting off the water, drain the plumbing system by turning on all the faucets in the home. Let the water run until it stops flowing.
If necessary, turn off electricity. If any wiring or other parts of the electrical systems have been drenched by water, not touch them. Shut off electricity at the electrical panel and call a professional.
Protect Your Plumbing
Instead of waiting to respond to a burst pipe, homeowners are better off taking steps to protect their plumbing during cold weather. Here are some common-sense tips:
Insulate your pipes. Protect exposed pipes by wrapping them in foam insulation.
Let faucets drip. During a cold snap, when the temperature plunges below freezing, slightly open both the hot and cold taps on bathroom and kitchen faucets and let water trickle.
Thawing pipes. If an exposed pipe freezes, take care if trying to thaw it. Safe options are using a space heater, heat lamp, or hair dryer. Do not use an open flame such as a propane torch to try to thaw the pipe. Open faucets connected to the pipe before attempting to thaw it.
Thawing enclosed pipes. Call a professional plumber if an enclosed pipe, such as in a wall, freezes. A plumbing technician can use an infrared lamp to safely heat the pipe without damaging the wall.
We Can Help
The experts at Petri Plumbing can offer help winterizing your pipes to reduce the chances of freezing and bursting. You can further protect your home by the plumbing system inspected and replacing old or inferior pipework. Contact us at (718) 748-1254 today for help.