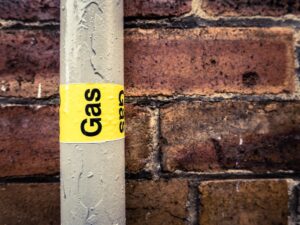 Gas line leaks and carbon monoxide infiltrations can be frightening for home owners in Brooklyn and other New York City boroughs. Stories of gas line explosions and carbon monoxide incidents are often reported and can be dangerous to homeowners and their families. But how do you perform gas leak and carbon monoxide detection?
If you are concerned about Brooklyn gas line leaks, Petri Plumbing is the Brooklyn plumber and gas line repair experts and we are aware of the dangers of gas line leaks and carbon monoxide poisoning. Protect yourself and your family from dangerous situations with the tips below or reach out to our expert plumbers in Brooklyn for more information!
Spotting Gas Leaks
In order to identify a potential gas line leak, it is best to look for subtle signs that are available. Because most natural gases are naturally odorless, many gas line service providers add a distinct smell to natural gas, often a "rotting egg" smell that should be instantly noticeable. Another indicator is a "hissing" noise that may be coming from a gas appliance that is currently leaking.
Other indicators of a potential gas line leak is physical symptoms, including nausea, dizziness, fatigue, and irregular breathing. These symptoms may be particularly harmful to the elderly and people who have pre-existing health conditions. Additionally, if your plants are quickly dying with no apparent reason, a gas link leak could be the culprit. Plants that are near a gas line leak will quickly become very sick, and eventually die.
Carbon Monoxide Detection and Avoidance
Carbon monoxide is an odorless, tasteless and colorless gas that can be deadly if ingested. Carbon monoxide can be emitted from a variety of items that are in the home or are used indoors without proper ventilation, including charcoal grills, propane heaters, generators, spray paint and kerosene space heaters.
Carbon monoxide poisoning can easily occur in your home. If an appliance is not maintained or installed correctly, the opportunity for carbon monoxide poisoning is substantially higher, especially if these items do not have proper ventilation. It is a good idea to install a carbon monoxide detector in your Brooklyn area home to help with carbon monoxide detection.
The detector will notify you if carbon monoxide levels in your home are elevated and can potentially help save you and your family members' lives. The Consumer Products Safety Commission reports that more than 400 individuals die each year from accidental, non-fire related Carbon Monoxide poisoning.
Ease Your Mind with a Gas Line Inspection
The easiest way to make sure that your Brooklyn home is safe in regards to your gas lines is to engage in regular gas line inspections from a certified plumber. A certified plumber can inspect your gas lines to make sure that they are in proper condition and make recommendations on any work that needs to be done to ensure the safety of your home and your family.
Safety and preventive inspections are the keys to proper maintenance of the gas lines in your home to protect your family from Brooklyn gas line leaks.  To find out more gas line leak maintenance and carbon monoxide detection for your Brooklyn home, contact Petri Plumbing and Heating today!