Petri Plumbing & Heating is expanding their business to include HVAC services to become Brooklyn's most complete home service company
BROOKLYN, N.Y. — Oct. 27, 2017- Petri Plumbing & Heating, Inc., an award-winning, family-owned Brooklyn plumbing staple since 1906, is proud to announce the expansion of their business to include full HVAC installation, maintenance and repair services.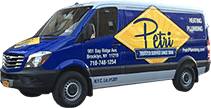 "We've been trusted by Brooklyn homeowners time and time again to help them when a plumbing problem arises," said Michael Petri, owner of Petri Plumbing & Heating Inc. "Over the years we've seen a lot of issues, and more recently, we've had several of our customers ask if we do any HVAC work, or comment that they wish we did. Now, whether the problem is an issue with their plumbing or their heating or air conditioning unit, we'll be able to take care of the problem and help get their issue fixed and their home back to normal."
Petri is an Energy Star certified company and offers a variety of heating and cooling services, including:
Installation, service, troubleshooting and diagnosis of:

Energy Star rated boilers
Steam heating systems
Hydronic (hot water) heating systems
HVAC (forced air, furnace) heating systems
Tankless heating systems

Oil to gas conversions
Required annual city boiler inspections
Department violation corrections
Design and installation of radiant heat systems
Installation and service of Runtal Radiators and SteamView Radiators
Cleaning and adjustment of blower components, burner assembly, condensate drains and evaporator coil
Carbon monoxide testing
Code compliance
Duct cleaning, sanitization and fragrance
Electric motor service and electrical connection inspection
Energy efficiency analysis
Seasonal tune-ups
Filter maintenance program
Indoor Air Quality, including:

Humidifiers
Air purification systems
UV lights

Repair and replacement thermostats
Video camera inspection of all HVAC systems
"Ultimately, we want every Brooklyn resident to know that if they have an issue with their HVAC system, or they want it to last as long as possible, we're here to solve their problem and ensure they get the most out of their system," Petri said. "With winter weather around the corner, now is the perfect time to get one of our HVAC service experts out to your home to make sure your system is ready to handle the cold. We can get your heating system up and running efficiently, quickly. We also specialize in heating system maintenance and heating start-ups so you can prevent breakdowns before they happen, extend the life of your heating system, and most of all, save more money on your heating bills by keeping your system running efficiently."
Petri Plumbing & Heating, Inc. has an A+ rating from the BBB and has been providing fast, reliable and quality service to the Brooklyn area since 1906. For residents who'd like to learn more about the HVAC services or to schedule an installation or repair appointment, call 718-748-1254 or visit www.petriplumbing.com to speak with an expert about your specific needs.
About Petri Plumbing & Heating, Inc.
Petri Plumbing & Heating, Inc. is a family owned and operated business serving Brooklyn and the New York City area. Founded in 1906, the company offers a 100 percent guarantee on all services, upfront pricing, and friendly and knowledgeable Service Experts for all kinds of home and business plumbing and heating needs. Services offered include water and gas pipe leak repair and installation, fixture installations, inspections, boiler repair, water heater installation, complete bathroom, kitchen, laundry & utility room remodeling and more. Petri is also licensed and certified by Green Plumbers USA, the first in New York City to receive this designation. For more information, please visit www.petriplumbing.com or call 718-748-1254.
###
MEDIA CONTACT:
Heather Ripley
Ripley PR
865-977-1973
hripley@ripleypr.com