Petri Plumbing & Heating recommends New York homeowners schedule early fall boiler maintenance to avoid untimely winter breakdowns and failures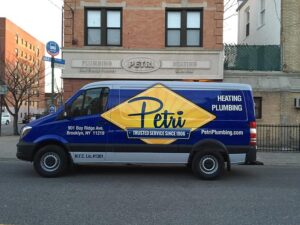 BROOKLYN, N.Y. – September 17, 2018 – Petri Plumbing and Heating, Inc., a family owned business serving New York since 1906, recommends scheduling an annual boiler tune-up now to eliminate the chances of equipment failures and safety concerns that can arise during unexpectedly cold fall days.
"Making sure your boiler system is ready for winter, and fall for that matter, should be an annual commitment," said Michael Petri, owner of Petri Plumbing & Heating. "A simple annual tune-up can save tremendous amounts on your energy bill, eliminate unexpected repairs and, most importantly, prevent safety hazards."
The Petri Plumbing and Heating team recommends an early tune-up for the following reasons:
Increase efficiency and save money – During an annual boiler tune-up, filters will be changed, the unit will be cleaned and mechanical parts will be lubricated resulting in better operating efficiency. The less work it takes for the unit to reach desired temperatures during heating season, the less impact it will have on the monthly energy bill.
Prevents untimely failures and breakdowns – More than 40% of boilers that fail during fall and winter will do so on the first day below freezing. By identifying and correcting any issues that may have developed or worsened since last winter, untimely failures can be avoided. Early attention to such hidden problems can eliminate costly repairs.
Helps maintain good indoor air quality – As dust, pet dander and other small debris cycle through the system, the filters work to remove as much of it as possible. When filters are changed and the system is cleaned during a tune-up, it prevents these small particles from continuing to cycle throughout the household and invading living spaces.
Identifies and corrects potential safety concerns – A faulty system or clogged flue can result in improper ventilation and the dangerous presence of carbon monoxide. During a tune-up, technicians will inspect and correct any issues that could lead to carbon monoxide leaks, fires and any other safety hazards that can arise due to negligence.
May be required to maintain manufacturer's warranty – Many manufacturers' warranties actually require proof of annual maintenance before paying repair reimbursements. Reading all of the fine print and acting accordingly can save hundreds in repair fees or even thousands if a full replacement unit is necessary.
For more information about boiler tune-ups, please visit www.petriplumbing.com or call 718-748-1254.
About Petri Plumbing & Heating, Inc.
Petri Plumbing & Heating, Inc. is a family owned and operated business serving Brooklyn and the New York City area. Founded in 1906, the company offers a 100 percent guarantee on all services, upfront pricing, and friendly and knowledgeable service experts for all kinds of home and business plumbing and heating needs. Services offered include water and gas pipe leak repair and installation, fixture installations, inspections, boiler repair, water heater installation, complete bathroom, kitchen, laundry and utility room remodeling and more. Petri is also licensed and certified by Green Plumbers USA, the first in New York City to receive this designation. For more information, please visit www.petriplumbing.com or call 718-748-1254.
###